10 regional startups announced as winners of Uplift Albania acceleration program
12/11/2019

Posted by:

ICTSlab

Category:

News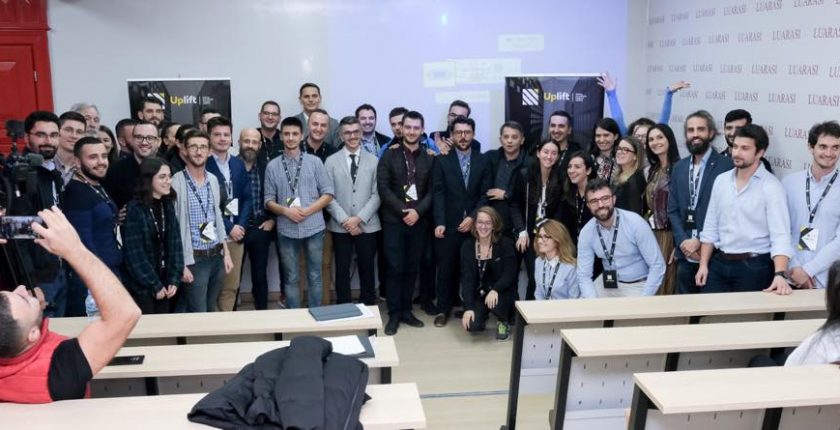 Founded with the mission to support startup ecosystem in Albania, Kosovo and Region, Uplift Albania innovative accelerator made possible by a close and broad partnership of ICTSmedia publishing house with leading experts of Europe in startup world, announced on Saturday 9-th, the winners of a six-week acceleration program to further expand their businesses locally and internationally.
Selection Bootcamp was the first meeting between startups, mentors, investors, tech experts and local, regional and global businesses of Uplift Albania.
Enchele, Dua.com. Plexusvr, Moovy Food, Te Pema, Ipervox, Amargi, iAvokat, Game On and Jiroo represent the first batch of Uplift Albania and are going to start the acceleration program on November 11-th 2019.
Selected startups are primarily focused on the development of technology products for energy and automation the likes of Enchele or a gaming platform and esports with 50,000 visits a month like GameOn and a digital legal platform with services and contracts for businesses like iAvokat.
TE PEMA is a green and sustainable design living space solutions company and Amargi is an Albanian, online brand designing modern clothes with hand-loomed fabric and application of ethnographic motives. JIROO is a digital platform that enables people and businesses to rent their motor vehicles to interested tenants and Moovy Food's mission is to transform the way customers eat. Dua.com is the leading Albanian dating site for single Albanian men and women who want to find their partner and pleXus is a narrative, emotional VR puzzle game. IPERVOX.COM, a SaaS that breaks down entry barriers for content creators on voice platforms like Amazon Alexa.
Uplift Albania received more than 50 applications from 6 countries and 9 different industries and 20 of them were invited to Selection Bootcamp.
On the first part of the day, startup presented their teams and ideas during a 90-seconds introduction with the aim to get as much attention as possible from mentors and investors.
Lean Canvas workshop followed lead by Martin Kujan and Tomas Penxa, two experts with  a significant experience in Central Europe.
After the workshop, each startup had their business model finished and was used for the next important phase of 1-on-1 mentoring.
During this phase of Selection Bootcamp, each startup spent 15 minutes to discuss with their mentors whose expertise was valuable to startup needs.
The Final Pitching was the key moment of Selection Bootcamp, and it was the time for startups to present their final presentations. Each startup had only  5 minutes  to convince mentors that they were ready for the 6-week acceleration program. It was a tough decision for the mentors due to great talent, ideas,  hard work and effort from all the participating startups.
Even though only 10 of them made it to the acceleration program, everyone was a winner! They all had the chance to exchange their business cards with investors and industry experts, to find the right answers for their businesses and every one of them is now ready to try for a second batch of Uplift Albania.
The winners will start their journey with weekly meetings with their mentors beginning from today, November 11-th 2019. Their journey will be as motivating as challenging for them.
Startup of Uplift Albania now face a acceleration program with 50+ industry experts, successful entrepreneurs of Europe and Balkan investors on Demo-Day on 20 January, two days after Progress Pitch that is going to take place on 18 January.
Uplift does not invest in companies directly. However, if you participate in Uplift, you have a chance to secure 50,000 EUR investment through our investment partners. There is also a 3,000 EUR cash prize for the best team.
More than 21 mentors and investors, Peter Kolesar, Jaroslav Luptak, Michal Laco, Eva Simekova, Mary MacPherson, Martin Kujan, Tomas Penxa, Andrej Petrus, Jules Banning, Igor Madzov, Marek Lavcak, Milan Steskal, Ladislav Kossar, Shkelzen Marku, Patrik Fetahaj, Rafaela Rica, Diana Xhumari, Egzon Halili, Erëmal Bajrami, Arjodita Mustali, and Marin Gjonaj will assist and invest in startups that will be joining Uplift Albania.
Uplift is a prominent accelerator in Slovakia and Central Europe organized to support and develop startup ecosystem in Slovakia. In Albania the accelerator comes thanks to close partnership of ICTSmedia and SOVVA with the financial support of SlovakAid, Credins Bank, Vodafone Albania, Albvision, Gjonaj Group and with the support of EU for Innovation, Tirana Muncipality, Swissep, Vigan, Tegeteria, Luarasi University, ICTSlab. PCWorld Albanian, CIO.al and SCAN Tv are media partners of this unique event.
Uplift Albania started its journey on October opening the application for every startup looking to expand their business internationally and gain the best expertise of mentors and entrepreneurs of Central Europe. Applications remained opened until November 3-rd 2019 23:59.
Albanian and regional startups turned into companies have had a difficult time to gain international recognition and success and the traditional approach towards business remains a key challenge for Albania and region. Uplift Albania is a unique real opportunity for a few startups looking for recognition of their well-deserved aspirations.
10 startupe nga rajoni dolën fitues te programit te akselerimit ne Uplift Albania
12/11/2019

Posted by:

ICTSlab

Category:

Njoftim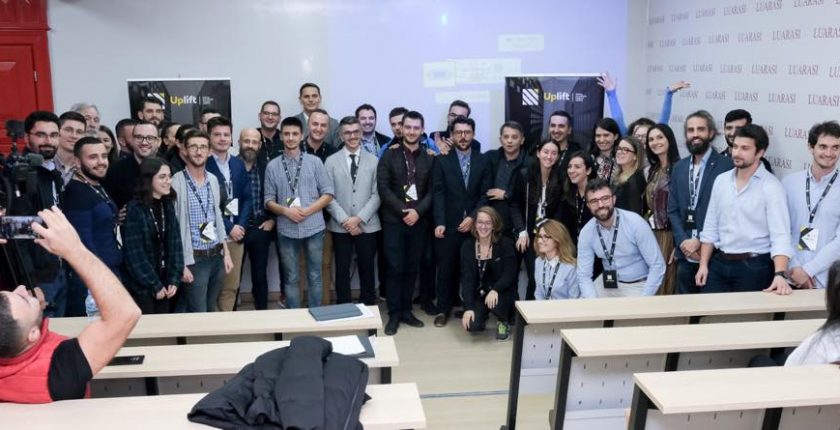 I themeluar për të mbështetur ekosistemin e startupeve në Shqipëri, Kosovë dhe Rajon, akseleratori inovativ Uplift Albania i cili vjen në Shqipëri falë partneritetit të gjerë të shtëpisë botuese ICTSmedia përzgjodhi ditën e Shtunë 9 Nëntor 2019, startupet fituese të cilat do të ndjekin programin 6-javor të akselerimit me mundësinë për të rritur biznesin e tyre edhe ndërkombëtarisht.
Selection Bootcamp ishte takimi i parë zyrtarë mes startupeve konkurrente, mentorëve, investitorëve, ekspertëve të teknologjisë dhe bizneseve vendase, rajonale dhe botërore.
Enchele, Dua.com. Plexusvr, Moovy Food, Te Pema, Ipervox, Amargi, iAvokat, Game On dhe Jiroo janë startupet e para të Uplift Albania dhe do të nisin programin e akselerimit më 11 Nëntor 2019.
Startupet e përzgjedhura janë të fokusuara nga zhvillimi i produkteve teknologjike të energjisë dhe automatizimit si Enchele tek një platformë lojërash dhe sportesh elektronike me 50 mijë vizita në muaj si GameOn dhe një platformë dixhitale ligjore e cila ofron shërbime dhe kontrata për bizneset si iAvokat.
TePema është një kompani e cila ofron zgjidhje të "blerta" dizajni ndërsa Amargi përfaqëson një markë Shqiptare e dizajnit të veshjeve moderne. Jiroo është një platformë ku njerëzit dhe bizneset mund të marrin me qira automjete dhe Moovy Food kërkon të transformojë mënyrën sesi njerëzit ushqehen.Platforma Dua.com u dedikohet atyre meshkujve dhe femrave single në kërkim të një partneri dhe me pleXusVr gjeni emocion në një lojë. Ipervox vjen me misionin për të ther barrierën mes krijuesve të përmbajtjeve dhe platformave zanore si Amazon Alexa.
Mese 50 aplikime kanë mbërritur nga 6 vende të rajonit dhe 9 industri të ndryshme pranë Uplift Albania ku 20 prej tyre ishin të ftuar në Selection Bootcamp.
Në pjesën e parë të ditës ata prezantuan skuadrën dhe idenë e tyre në vetëm 90 sekonda kohë, në përpjekje për të tërhequr vëmendjen e mentorëve dhe investitorëve.
Bootkampi vazhdoi me workshopin e fokusuar në "Lean Canvas" nën udhëheqjen e Martin Kujan dhe Tomas Penxa, ekspert të jashtëm me eksperiencë shumëvjeçare në Evropën Qendrore.
Pas workshopit, secili startup kishte gati modelin e biznesit të realizuar, të cilin e përdorën si referencë të rëndësishme në fazën tjetër: mentorim 1-1.
Gjatë kësaj faze të Bootcamp, secili startup kishte 15 minuta në dispozicion për tu takuar me cdo mentorë, ekspertiza e të cilëve mund t'ju përgjigjes nevojave të startupit.
Finalizimi i Bootcamp ishte "The Final Pitching". Momenti kur startupet, fal punës në workshop dhe takimeve me mentorët, kishin të finalizuar prezantimin e tyre.
Në final pitching, ata patën vetëm 5 minuta në dispozicion për të bindur mentorët ti përzgjedhin si pjesë të programit 6-javorë të akselerimit. Vendimi për më të mirët ishte i vështirë pasi në sallën e Selection Bootcamp të Uplift Albania kishte padyshim shumë talent, punë, përpjekje dhe ide të provuara se mund të kthehen në realitet.
Edhe pse vetëm 10 prej tyre ja dolën të bëhen pjesë e programit të akselerimit, të gjithë dolën fitues nga ky bootkamp.
Të gjithë arritën të takoheshin e të shkëmbenin kartëvizitat e tyre me investitorët e ekspertët e industrisë, të gjithë arritën të gjenin përgjigje për pikëpyetjet e biznesit të tyre dhe të gjithë janë tashmë më të sigurt dhe gati për një second batch në Uplift Albania, pasi për të gjithë ky ishte vetëm fillimi i rrugëtimit të tyre.
Ndërkohë, 10 fituesit e programit të akselerimit do të nisin takimet dhe trajnimet javore me mentorët përkatës duke nisur që prej ditës së nesërme, 11 Nëntor 2019. Një rrugëtim që pritet të jetë sa motivues edhe sfidues dhe që premton startups të gatshëm të konkurrojnë me më të mirët në tregun global.
Startupet pjesë e Uplift Albania i pret një program akselerimi me 50+ ekspertë të industrisë, sipërmarrës të suksesshëm në Evropë dhe investitorë Ballkanik në ditën e prezantimit Demo-Day që do të mbahet më 20 Janar, dy ditë pas vlerësimit të progresit të arritur prej tyre më 18 Janar.
Uplift Albania nuk investon në mënyrë direkte në kompani. Duke u bërë pjesë e tij startupet mund të përfitojnë deri në 50,000 euro investim përmes partnerëve ose 3,000 euro çmim për ekipin më të mirë.
Mëse 21 mentorë dhe investitorë si Peter Kolesar, Jaroslav Luptak, Michal Laco, Eva Simekova, Mary MacPherson, Martin Kujan, Tomas Penxa, Andrej Petrus, Jules Banning, Igor Madzov, Marek Lavcak, Milan Steskal, Ladislav Kossar, Shkelzen Marku, Patrik Fetahaj, Rafaela Rica, Diana Xhumari, Egzon Halili, Erëmal Bajrami, Arjodita Mustali, dhe Marin Gjonaj do të asistojnë dhe investojnë në startupet që do të bëhen pjesë e Uplift Albania.
Uplift është një akselerator i njohur në Sllovaki dhe në Evropën Qendrore themeluar për të mbështetur ekosistemin e startupeve. Në Shqipëri aksleratori vjen në Shqipëri falë partneritetit të ngushtë mes ICTSmedia, SOVVA, SlovakAid, Banka Credins, Vodafone Albania, Albvision, Gjonaj Group dhe me mbështetjen e EU for Innovation, Bashkia Tiranë, Swissep, Vigan, Tegeteria, Kolegji Universitar Luarasi, ICTSlab. PCWorld Albanian, CIO.al dhe SCAN TV janë partnerët mediatikë të kësaj ngjarje unike.
Uplift Albania nisi rrugëtimin në Tetor duke hapur aplikimet për të gjitha startupet që dëshironin të zgjeronin biznesin e tyre ndërkombëtarisht dhe të përfitonin ekspertizën e mentorëve dhe sipërmarrësve më të suksesshëm të Evropës Qendrore. Aplikimet qëndruan të hapura deri më 3 Nëntor 2019 23:59.
Startupet shqiptare dhe rajonale të shndërruara në kompani dhe që kanë arritur njohje dhe sukses ndërkombëtar janë të pakta me qasjen tradicionale ndaj biznesit që mbetet predominuese në Shqipëri dhe rajon. Uplift Albania është një mundësi e artë për ato startupe të cilat kërkonin njohje të aspiratave të tyre të merituara dhe potencialit inovativ të rajonit.