ICTSlab is a regional center of innovation, a multifunctional laboratory focused on informal education which targets young people's challenges for the 21st century. It was established in Tirana as a fruit of several years of successful experience of ICTSmedia's company and the support of the Nationwide Technology Association, ALBICT.
This center is supported by a number of international, regional and local organizations, active companies in the field of ICT, Telecommunication, Banking Sector and Academic Institutions and carries on a 10-year successful experience and comes as a continuation of the long-term strategy of ICTSmedia and Albvision group, with the mission of positive change of Albanian image throughout the world, through the promotion of the most advanced education systems, and highlighting the importance of Technology in improving our life.
Through ICTSlab center, publishing house ICTSmedia remains within the vision of the nationwide event Albanian ICT Awards, which aims to train young people with the best international knowledge and experiences, identify success stories and make them public by creating model examples for young people to follow and an ecosystem of values ​​to prepare Albania for tomorrow's economy.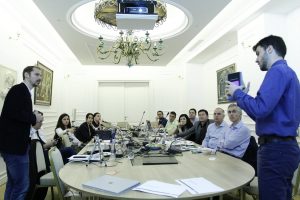 Nowadays, our lives are so influenced by technology that it is essential for  children to be scientifically and technologically educated and informed with the digital landscape alongside basic knowledge such as reading, math and other such important subjects.
ICTSlab has three computer labs with more than 30 computers, event halls and presentations that ICTSmedia uses for workshops, hackathons, round-tables, and a co-working space for talented teams or individuals in the field of entrepreneurship, who will find the doors open in this multifunctional center. ICTSlab follows the programs of combining teaching, vocational trainings and information technology certifications to keep our kids a step ahead with the latest trends in global ICT.
Education and vocational training in Science Technology Engineering and Mathematics (STEM);