10 regional startups announced as winners of Uplift Albania acceleration program
12/11/2019

Posted by:

ICTSlab

Category:

News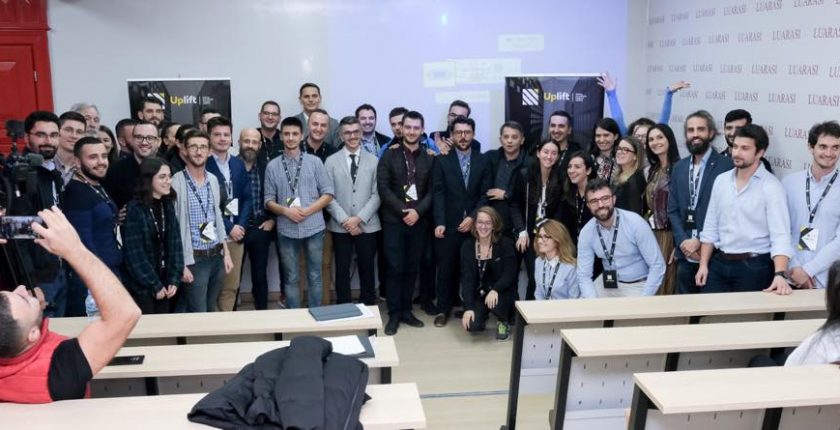 Founded with the mission to support startup ecosystem in Albania, Kosovo and Region, Uplift Albania innovative accelerator made possible by a close and broad partnership of ICTSmedia publishing house with leading experts of Europe in startup world, announced on Saturday 9-th, the winners of a six-week acceleration program to further expand their businesses locally and internationally.
Selection Bootcamp was the first meeting between startups, mentors, investors, tech experts and local, regional and global businesses of Uplift Albania.
Enchele, Dua.com. Plexusvr, Moovy Food, Te Pema, Ipervox, Amargi, iAvokat, Game On and Jiroo represent the first batch of Uplift Albania and are going to start the acceleration program on November 11-th 2019.
Selected startups are primarily focused on the development of technology products for energy and automation the likes of Enchele or a gaming platform and esports with 50,000 visits a month like GameOn and a digital legal platform with services and contracts for businesses like iAvokat.
TE PEMA is a green and sustainable design living space solutions company and Amargi is an Albanian, online brand designing modern clothes with hand-loomed fabric and application of ethnographic motives. JIROO is a digital platform that enables people and businesses to rent their motor vehicles to interested tenants and Moovy Food's mission is to transform the way customers eat. Dua.com is the leading Albanian dating site for single Albanian men and women who want to find their partner and pleXus is a narrative, emotional VR puzzle game. IPERVOX.COM, a SaaS that breaks down entry barriers for content creators on voice platforms like Amazon Alexa.
Uplift Albania received more than 50 applications from 6 countries and 9 different industries and 20 of them were invited to Selection Bootcamp.
On the first part of the day, startup presented their teams and ideas during a 90-seconds introduction with the aim to get as much attention as possible from mentors and investors.
Lean Canvas workshop followed lead by Martin Kujan and Tomas Penxa, two experts with  a significant experience in Central Europe.
After the workshop, each startup had their business model finished and was used for the next important phase of 1-on-1 mentoring.
During this phase of Selection Bootcamp, each startup spent 15 minutes to discuss with their mentors whose expertise was valuable to startup needs.
The Final Pitching was the key moment of Selection Bootcamp, and it was the time for startups to present their final presentations. Each startup had only  5 minutes  to convince mentors that they were ready for the 6-week acceleration program. It was a tough decision for the mentors due to great talent, ideas,  hard work and effort from all the participating startups.
Even though only 10 of them made it to the acceleration program, everyone was a winner! They all had the chance to exchange their business cards with investors and industry experts, to find the right answers for their businesses and every one of them is now ready to try for a second batch of Uplift Albania.
The winners will start their journey with weekly meetings with their mentors beginning from today, November 11-th 2019. Their journey will be as motivating as challenging for them.
Startup of Uplift Albania now face a acceleration program with 50+ industry experts, successful entrepreneurs of Europe and Balkan investors on Demo-Day on 20 January, two days after Progress Pitch that is going to take place on 18 January.
Uplift does not invest in companies directly. However, if you participate in Uplift, you have a chance to secure 50,000 EUR investment through our investment partners. There is also a 3,000 EUR cash prize for the best team.
More than 21 mentors and investors, Peter Kolesar, Jaroslav Luptak, Michal Laco, Eva Simekova, Mary MacPherson, Martin Kujan, Tomas Penxa, Andrej Petrus, Jules Banning, Igor Madzov, Marek Lavcak, Milan Steskal, Ladislav Kossar, Shkelzen Marku, Patrik Fetahaj, Rafaela Rica, Diana Xhumari, Egzon Halili, Erëmal Bajrami, Arjodita Mustali, and Marin Gjonaj will assist and invest in startups that will be joining Uplift Albania.
Uplift is a prominent accelerator in Slovakia and Central Europe organized to support and develop startup ecosystem in Slovakia. In Albania the accelerator comes thanks to close partnership of ICTSmedia and SOVVA with the financial support of SlovakAid, Credins Bank, Vodafone Albania, Albvision, Gjonaj Group and with the support of EU for Innovation, Tirana Muncipality, Swissep, Vigan, Tegeteria, Luarasi University, ICTSlab. PCWorld Albanian, CIO.al and SCAN Tv are media partners of this unique event.
Uplift Albania started its journey on October opening the application for every startup looking to expand their business internationally and gain the best expertise of mentors and entrepreneurs of Central Europe. Applications remained opened until November 3-rd 2019 23:59.
Albanian and regional startups turned into companies have had a difficult time to gain international recognition and success and the traditional approach towards business remains a key challenge for Albania and region. Uplift Albania is a unique real opportunity for a few startups looking for recognition of their well-deserved aspirations.