Slovak Creatives in Tirana disscuss issues of Creative Industries in Albania
From 30 to 31 May multi-functional laboratory in Tirana ICTSlab welcomed Creative Academy with the participation of Slovak experts in this field.
Creative Academy was brought to Tirana thanks to collaboration of SOVVA, ICTSmedia, SlovakAid, CIVITTA Slovakia and Polis University.
The one-year project started on December of last year in Shkodra where the first Creative Academy took place with students in the field of engineering and business.
Creative Industries like advertising, architecture, arts, fashion, design, IT and media are seen as the hidden jewels of an innovative community.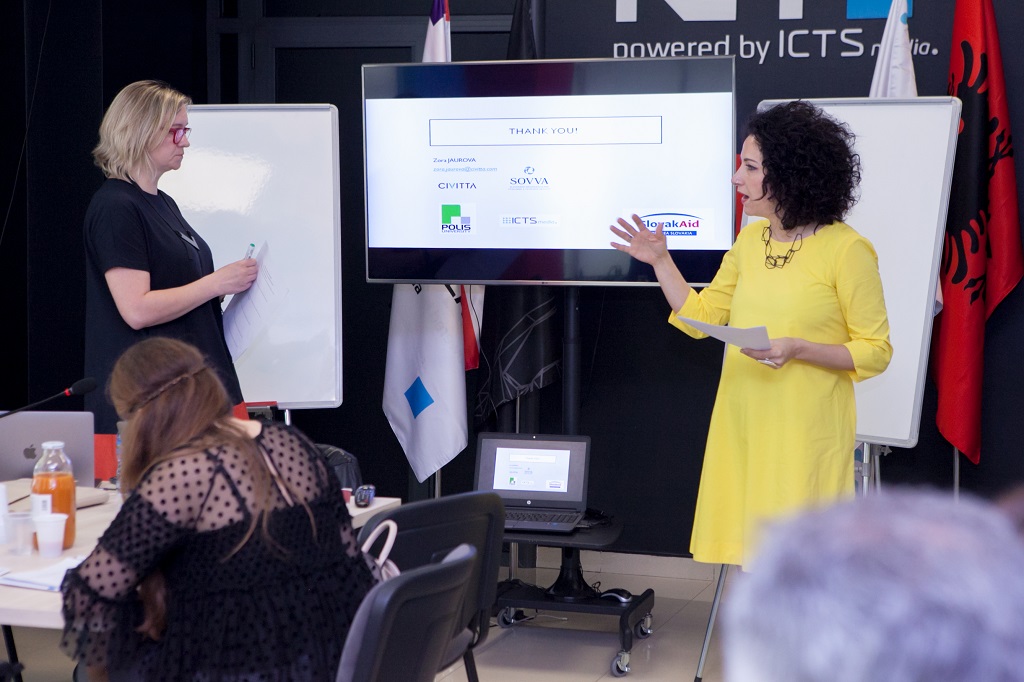 Well-known creatives in Slovakia with international reach like Peter Kolesar, Zora Jaurova and Dana Kleinert joined this event.
Dana Kelinert is a fashion designer with her own brand and helped the atomization of fashion industry in Slovakia by creating Slovak Fashion Council.
Zora Jaurova is a film producer and expert in creative policies. She was the co-author and director of Kosice – European Capital of Culture 2013 project.
Peter Kolesar is a partner at Civitta Slovakia and board member at American Chamber of Commerce in Slovakia. He served as a diplomat in Washington, DC and Tel Aviv supporting the expansion of Slovak technology companies to these markets.
On the first day 26 representatives from public and private universities, public institutions and organizations that support this sector participated on round table.
Slovak experts introduced for them the creative academy ecosystem in Slovakia, their experience and the latest developments of this sector in the economy.
A group discussion followed which resulted in mapping the creative academy ecosystem in Albania by focusing on:
Sector structure and identification of main players, human capital, education programs and professional training, necessary technologies on sector development, identification of regions with potential, legal framework, financing and supporting schemes, identification of studies, analysis and data.
Identification of problems and obstacles that prevent further development of this sector
Recommendations and proposals for lawmakers to strengthen this sector
On the second day 11 participants from public and private universities had their say. Peter Kolesar brought his experience at Neuology and SOVVA with virtual incubators, co-spacing, acceleration programs and the international case studies.
Then he proceeded with SWAT Analysis of creative industries in Albania during a brainstorming session. Divided in two groups, participants featured vulnerabilities of ecosystem and using fishbone determined their effects in sector development.
This two-day event highlighted also the importance of inclusion of diaspora in financing and mentoring and some positive examples.
In the end this event had the mission to identify issues creative industries are facing in Albania like: No Access to finances for companies in creative industries sector; No unifying representative organization; Lack of education for creative entrepreneurs (in entrepreneurship or creative skills); No data about creative industries sector for possible government policies; Lacking cooperation between universities and companies; Issues with export and internationalization. /ICTSlab